Wereldberoemd werd de nu 47-­jarige Amerikaanse zangeres Diana Ross door The Supremes. Haar solo­carrière kende ook jarenlang alleen maar hoogtepunten. Maar inmiddels is
La Ross
in haar supersterstatus voorbijgestreefd door jongeren als Whitney Houston. Gebleven zijn de Las­Vegas-achtige shows met oogverblindende kostuums en 'gouwe ouwe' nummers. Op 27 en 28 november verzorgt zij optredens in Ahoy in Rotterdam.
Lees meer...
Slechts weinig entertainers krijgen een staande ovatie voordat er ook maar een lettergreep gezongen is. Frank Sinatra is er een van. De 75-­jarige Amerikaanse ster trapte gisteravond in een bijna uitverkocht sportpaleis in Antwerpen zijn Europese tournee af. Weer bleek het voor de bejaarde zanger een peuleschil om een zaal plat te krijgen, ondanks de slechte akoestiek.
Lees meer...
De 75-­jarige Amerikaanse zanger Frank Sinatra dompelt toeschouwers die zijn concerten bezoeken al jaren onder in een warm nostalgisch bad. De ouderwetse
crooner
heeft zijn beste jaren al ver achter zich, maar met show­ en vakmanschap heeft hij zich als absolute wereldster gevestigd; hij is uitgegroeid tot een monument in de lichte muziek. Onaantastbaar. Maar zelfs een monument kan slijtageplekken vertonen.
Lees meer...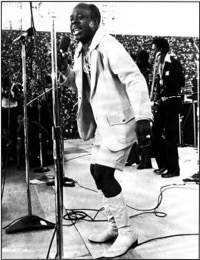 Een van de oudste en kleurrijkste nog actieve artiesten in de soulmuziek is de 74­-jarige ras­entertainer Rufus Thomas. Hij had enkele hits in de jaren vijftig en zestig en nog altijd zijn zijn dwaze nummers van toen - '
The Funky Chicken', 'The Dog', 'Can Your Monkey Do The Dog
' en '
Do The Funky Penguin'
- de ruggegraat van zijn energieke shows. Sinds 1971 pleegt hij die in korte broek af te werken.
Lees meer...
Wie zich zo schaamteloos op de borst klopt als soul- en funk­gigant James Brown hoeft niet te rekenen op enige clementie. Iemand die zich
Mister Dynamite, Soulbrother Number One, The Godfather of Soul
noemt en zich nog dertig andere hoogdravende eretitels heeft gegeven, moet dat dan ook maar waarmaken. Geen gezeur over die bijna vut-­leeftijd, de langdurige tegenwind in zijn carrière of die forse gevangenisstraf die hij net achter de rug heeft. James Brown opende gisteravond officieus het North Sea Jazz Festival en liet zien dat hij nog niet afgeschreven is.
Lees meer...
De 50-­jarige funk­apostel George Clinton heeft nog altijd een lange adem. Dat kan worden afgeleid uit het ruim drie uur durende concert dat hij woensdagavond in theater Noorderligt in Tilburg gaf. Zeker de helft van de ruim 500 bezoekers kon niet genoeg krijgen van de betonfunk van Clinton en zijn elftal begeleiders. De kritische toehoorders fronsten af en toe de wenkbrauwen.
Lees meer...
It's startime with Mr. Dynamite, Soulbrother no.1, the Godfather of Soul... Jáámes Bróówn
. De in superlatieven gedrenkte aankondiging bij aanvang van het concert van James Brown moet de toehoorders komende woensdag alvast week maken voor het absolute boegbeeld van soul­ en funk. Dan is
The hardest working man in showbusiness
weer in Nederland. Aan de vooravond van het North Sea Jazz Festival is Brown te gast in de Statenhal in Den Haag.
Lees meer...
Terug van weggeweest: George Clinton, alias Dr. Funkenstein. De nu 50-jarige funk-pionier heeft een merkwaardige loopbaan achter de rug. Hij begon als zanger in een doo-wop-groepje, had enorme successen met zijn psychedelische funk, ging bankroet en werd in ere hersteld door funk-erfgenaam Prince. Clinton is een van de meest bizarre muzikanten in de zwarte muziek.
Lees meer...
De gerenommeerde Amerikaanse funk- en soulformatie Maze hield het donderdagavond in het Terras Theater aan de Stationsstraat al na een uurtje spelen voor gezien.
Lees meer...
Een flink portie funk, maar evenzogoed zoete ballads, enkele mespuntjes soul, jazz en latin, gekruid met wat politiek (natuurlijk anti-apartheid), gemaakt met groot respect voor de Schepper; dat is het recept van Maze.
Lees meer...