De thuisblijvers hadden ongelijk. De
Leif de Leeuw Band
speelde zaterdagavond 16 april de pannen van het dak op het podium van Heyhoef Backstage in de Reeshof in Tilburg. Zo'n honderd mensen genoten van de potente mix van blues en (southern) rock van deze jonge Nederlandse band.
Degenen die er wel waren, werden verrast door de muur van geluid die de vier jonge muzikanten produceerden en die perfect klonk in de ambiance van dit Tilburgse muziekpodium. Vol, krachtig, maar ook rijk aan nuances. Vakmanschap en bezieling klonken door in alle nummers, de zelf gecomponeerde maar ook de vertolkingen van bijvoorbeeld One Of These Nights van The Eagles en Whipping Post van The Allman Brothers Band. De afsluiter van het concert in wijkcentrum Heyhoef was overigens de kers op de taart: een meeslepende uitvoering van de klassieker Hocus Pocus van Focus. Zangeres-gitariste Britt Jansen beheerst dus niet alleen het idioom van de blues-rock maar kan ook nog eens een aardig partijtje jodelen. Zonder er een karikatuur van te maken zoals Thijs van Leer in zijn nadagen wel deed.
Dat nummer en trouwens het hele optreden toonde ook aan dat Leif de Leeuw hard op weg is een grote meneer te worden; als gitaarheld Jan Akkerman hem hoort en ziet spelen moet hij wel denken dat het met zijn erfenis goed zit. De Leeuw won niet voor niets twee keer de Sena Young Talent Guitar Award.
Vier muzikanten telt de Leif de Leeuw Band. Frontvrouw Jansen en naamgever De Leeuw mogen misschien de meeste aandacht naar zich toe trekken op het podium, maar hun twee medebandleden zorgen voor een meer dan solide basis om op te excelleren. Het aandeel van Eibe Gerhartl op bas en Tim Koning op drums in het krachtige geluid van de groep mag niet onderschat worden. De soli die beiden mochten spelen, maakten dat glashelder. Twee klasbakken.
Voeg vier talentrijke jonge muzikanten bij elkaar en dan is het begrijpelijk dat de Leif de Leeuw Band de Dutch Blues Challenge heeft gewonnen, in 2014. Alleen doet het label 'bluesband' de groep geen recht. De aanwezigen zaterdagavond bij Heyhoef-Backstage in Tilburg zullen dat beamen. De thuisblijvers hebben een van de beste bands van Nederland gemist.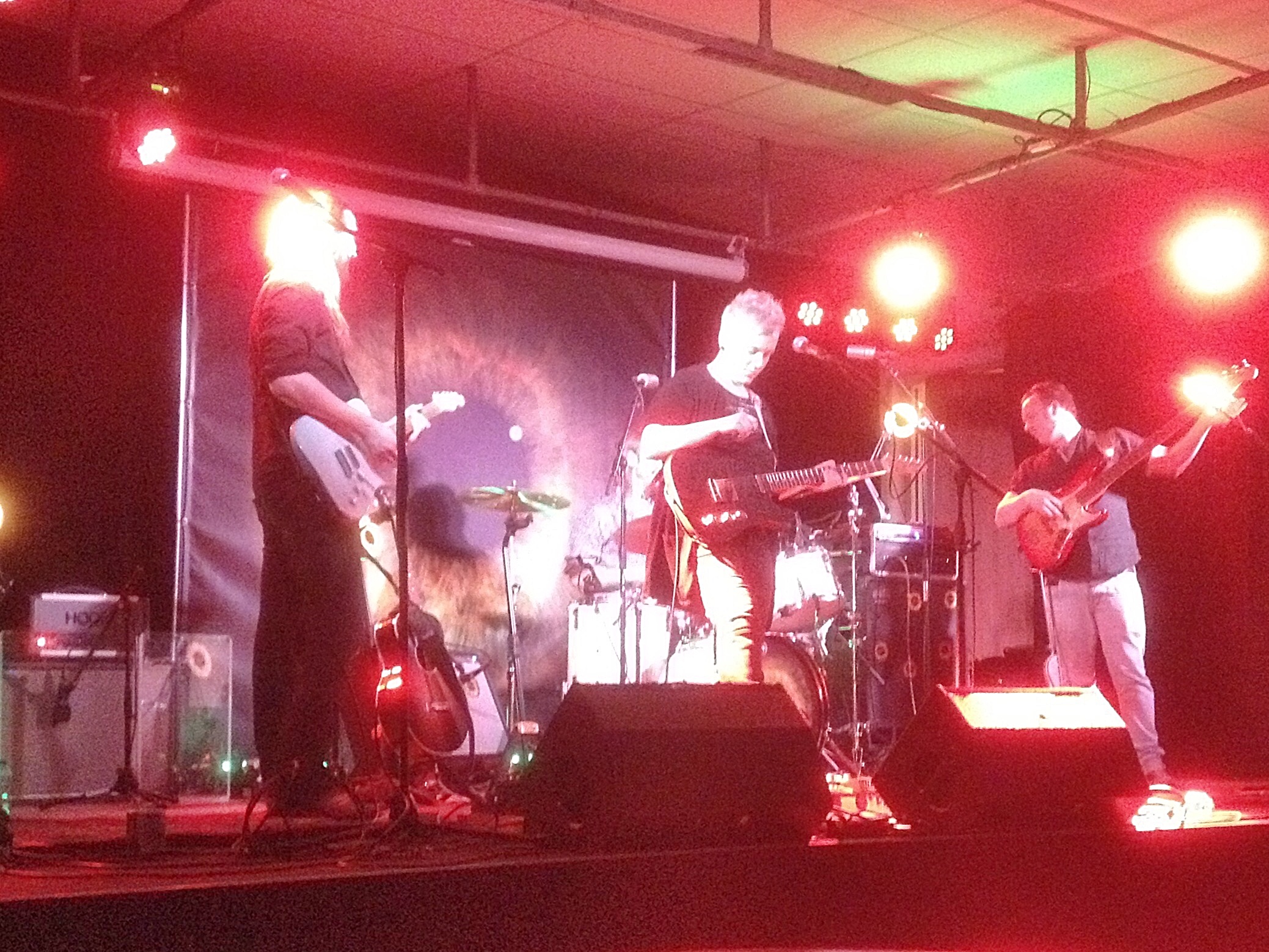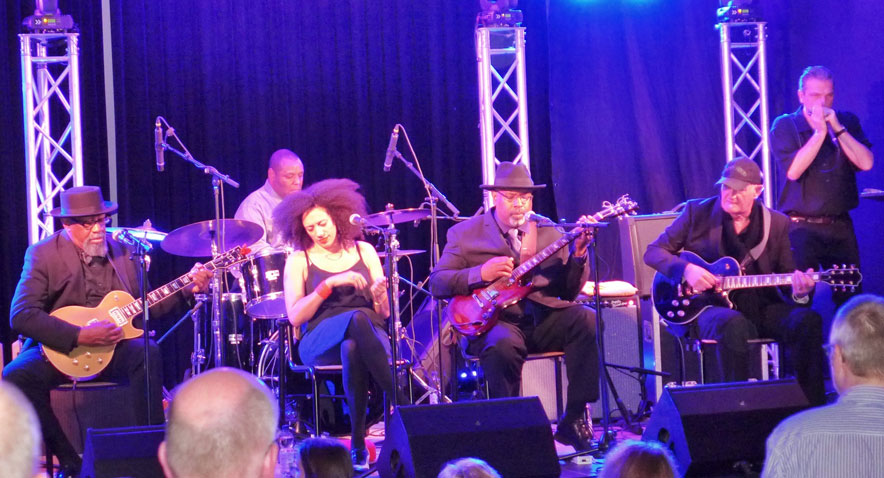 Alleen al een optreden van het fameuze Amerikaanse trio Heritage Blues Orchestra is een eersteklas traktatie in Tilburg. Als dan ook gitarist Jan Akkerman - onder muziekliefhebbers in de hele wereld bekend - aanschuift op het podium, dan is er sprake van een uniek concert. Het had vanavond plaats bij Heyhoef-Backstage, een wijkcentrum nota bene. Maar dan wel een met een prima akoestiek.
Uitverkocht was de zaal, wat nog altijd niet meer mensen zijn dan een bescheiden driehonderd. Die kregen meerdere nummers te horen van het eerste en nog enige album
Still I Rise
van Heritage Blues Orchestra, dat voor deze toernee is uitgebreid tot een kwintet (met de virtuoze mondharmonicaspeler Vincent Bucher en drummer Baron Harrison). De authentieke roots-blues - gedrenkt in de getormenteerde traditie van de afro-Amerikanen in het zuiden van de VS - werd door de Amerikaanse muzikanten met grote overgave vertolkt. Uitschieters waren
C-Line Woman, Get Right Church
en zeker de klassieker
St. James Infirmary Blues
, waarin zangeres Chaney Sims, gezegend met een dijk van een stem, tot grote hoogte steeg. De begeleiding van haar vader op elektrische piano was spaarzaam, maar uiterst effectief en sfeervol. Enkele uptempo
stompin' blues-
nummers werden overigens met evenveel elan gespeeld. Eigenlijk werd tijdens het hele concert duidelijk dat Heritage Blues Orchestra een absolute topgroep is en niet voor niets een Grammy Award-nominatie op zak heeft.
Jan Akkerman - die zo bewonderd wordt door Junior Mack van Heritage Blues Orchestra - kon door de inspanningen van de Tilburgse concertorganisator John Maes worden verleid om als speciale gast mee te doen aan het concert bij Heyhoef-Backstage. Dat deed hij met zichtbaar plezier, van zichzelf en Junior Mack. In de meeste nummers was Akkerman dienend, maar hij kreeg ook de ruimte om al solerend zijn grote muzikaliteit en vakmanschap te etaleren. Jammer genoeg was de geluidstechnicus niet steeds alert op die momenten en kreeg het publiek de pareltjes van de Volendammer niet altijd voldoende mee. Maar dat zal de meeste aanwezigen niet tot een andere conclusie brengen dat dat ze een uitzonderlijk optreden hebben bijgewoond.
Met dit concert sloot Heyhoef-Backstage het eerste seizoen af. Op 20 juni volgt nog een buitenoptreden van de Britse bluesband van Ian Siegal, Stax-Cats en de Heyhoef-Backstage Jamsession Band