07/06/15 22:25 Staat in:
live
Waar ik precies het lovende bericht over
Celine Cairo
las, weet ik niet meer. Het zou eigenlijk in
Jazzism
of
Heaven
moeten zijn, de muziekbladen die ik het meest frequent lees. Celine Cairo werd in dat bericht aangeprezen en ik maakte braaf een notitie in mijn zaktelefoon. Meer bleef niet hangen dan: eens iets beluisteren van deze zangeres. Maar daar bleef het bij, want ik kwam nooit iets van haar tegen, zocht er ook niet echt naar.
En ineens was daar Celine Cairo in levende lijve. Ze verzorgde donderdag 4 juni een muzikaal intermezzo tijdens de rectoraatsoverdracht in Tilburg University, als invalster. Drie nummers zong ze: een Engelstalig en twee in het Nederlands, waaronder het bekende lied
'Iedereen is van de wereld'
van The Scene. Nu hoor ik net zo lief Nederlands- als Armeenstalige muziek, maar naar Celine Cairo zat ik ook tijdens die twee nummers geboeid te luisteren. Haar stem is helder met een heel licht braampje. Maar waar de Amsterdamse haar toehoorders vooral mee inpakt is haar prachtige, expressieve voordracht.
Na afloop vertelde ze dat ze inmiddels twee EP's heeft gemaakt.
Haar aanhang groeit blijkbaar snel; mogelijk mede dankzij de drie keer dat ze in het televisieprogramma
De Wereld Draait Door
heeft gezongen. Deze zangeres moet haast wel een grote toekomst tegemoet gaan.
17/12/98 21:44 Staat in:
r&b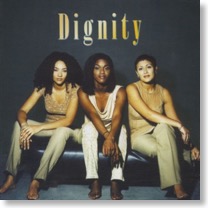 Platenmaatschappij Virgin zegt het zelf: 'Anno 1998 zijn er twee stromingen die de hitparades domineren: r&b en meidenpop. Een perfect moment dus voor Dignity om een greep te doen naar de macht. Want een meisjesgroep die r&b zingt'. Dat doet het ergste vrezen: confectiepop van het bedachte soort. Toch is het debuutalbum van het Nederlandse vocale trio geen gruwel. Het album klinkt zelfs heel wat oorspronkelijker dan veel muziek die Amerikaanse meidengroepen produceren. Minder sjabloonachtig, niet platvloers en emotioneler. Daarnaast hebben Garcia Gorré, Karima Lemghari en Suzan Haps vocaal meer in hun mars dan de meeste van hun Amerikaanse tegenhangers. Het debuut van Dignity, dat vooral ballads en mid-temponummers bevat, steekt boven het maaiveld uit.
30/05/98 20:41 Staat in:
r&b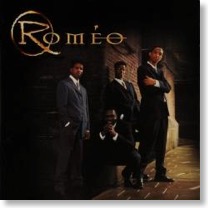 Hamvraag wat betreft de debuut­-cd van de Rotterdamse vocale r&b-­formatie Roméo is natuurlijk of de vier Nederlanders zich kunnen meten met wat er in dit genre uit Amerika komt. Dat kunnen ze. De eerste cd van Roméo ­ met de single
Coming Home
scoorde het kwartet al een grote hit, ­ is een smetteloze productie. Nergens een kneuterige imitatie van een toch vooral zwarte, Amerikaanse muziekstroming. Zelfs in de uitspraak van het Engels is geen vleugje accent van de vier Rotterdammers te bespeuren. Op de cd, die ook Roméo heet en in dertig landen uitkomt, vooral ballads, afgewisseld met enkele mid­tempo nummers. Geen sublieme uitschieters naar boven, daarentegen ook geen benedenmaatse nummers. Daarmee bewijst Roméo wel dat in Nederland ook hele degelijke r&b gemaakt kan worden.