De Amerikaanse zangeres
Diana Jones
toert tot het einde van de maand oktober door
Nederland en België
. Een bezoek aan een optreden van haar is zeer de moeite waard.
Een artikel over haar nieuwste album
Song To A Refugee
(2020) bracht me enkele maanden geleden op het spoor van de zangeres en liedjesschrijver. De liedjes op die plaat getuigen van groot mededogen voor de onfortuinlijken op aarde. Een muzikale daad van solidariteit met vluchtelingen en ontheemden wereldwijd, van degenen die in wrakke bootjes van Afrika naar Europa over proberen te steken tot de armen die een lange mars door Zuid-Amerika ondernemen in de hoop in de Verenigde Staten hun uitzichtloosheid te overwinnen, desnoods als illegale inwoner.
De met een fascinerende, gelaagde stem gezegende Diana Jones heeft erbarmen in mooie liedjes en stemmige, bescheiden arrangementen verpakt. In een enkel nummer wordt ze bijgestaan door enkele groten uit de muziekwereld: Steve Earle, Richard Thompson en Peggy Seeger. Ook al zullen de dertien liedjes nergens in de wereld vluchtelingen bereiken en soelaas bieden, misschien stemmen ze de luisteraars tot nadenken, tot minder hardvochtigheid en meer compassie.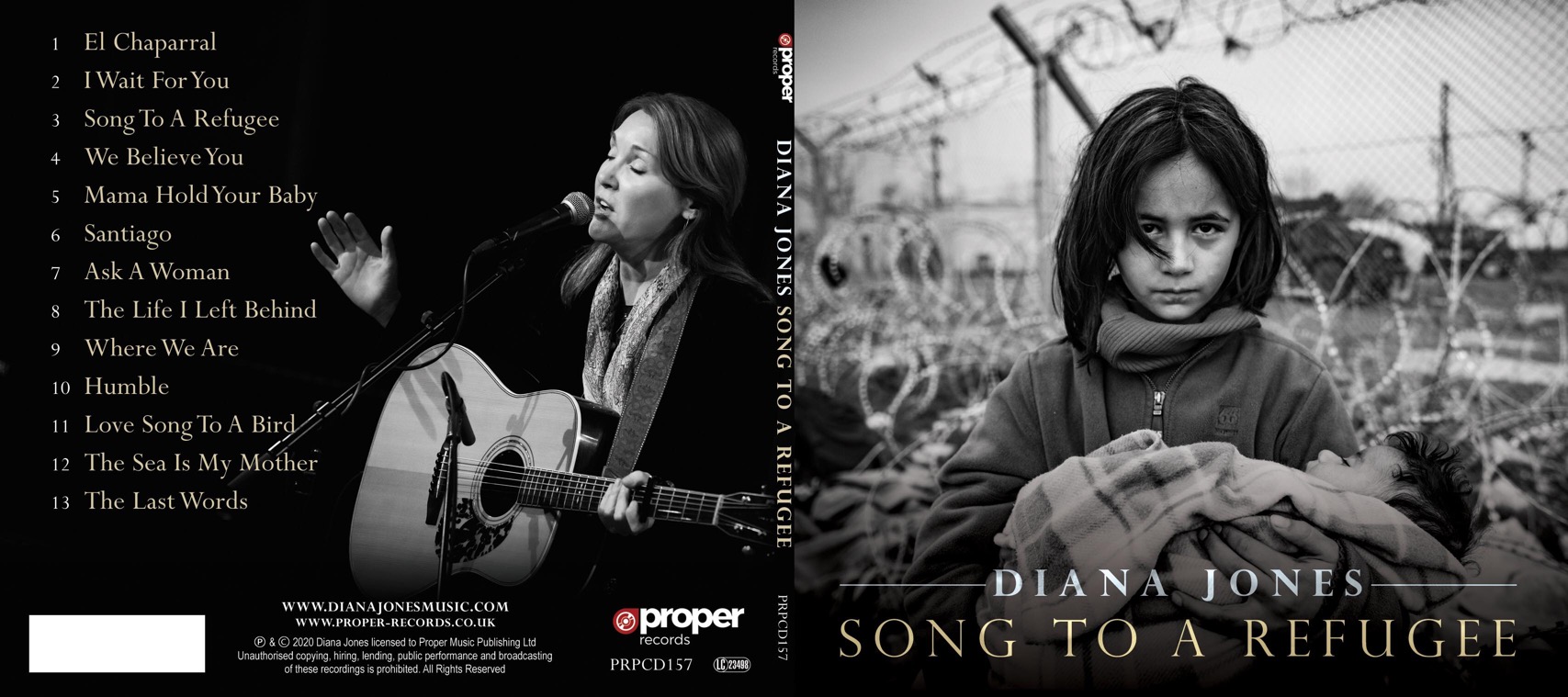 Dit engagement is geen eenmalige uitschieter voor Diana Jones, die in de genres folk, country, americana en bluegrass thuis is. Al eerder – ze bracht tot nu toe zes albums uit - toonde ze haar grote betrokkenheid bij mens en natuur. Zo nam ze stelling tegen ontwrichtende ertswinning in de Appalachen, het gebergte in het noordoosten van Noord-Amerika. Niet verwonderlijk, daar liggen haar wortels. 'De stem van het platteland van zuidelijk Amerika (
rural southern America
)', wordt ze wel genoemd. Haar verhalende liedjes zijn eigentijds maar tegelijk geworteld in een diepe muzikale traditie. Dat maakt ze zo bijzonder. Diezelfde gelaagdheid zit in haar stem, die schrijnend, klagelijk en troostend tegelijk is en waarin zowel verlangen, mededogen en sociaal commentaar echoën.
Waargebeurde verhalen
Tegen een redacteur van muziekblad Heaven zei ze enkele jaren geleden dit: "Ik lees graag waargebeurde verhalen over vroeger. Niet voor niets spelen meerdere liedjes zich af in het verre Amerikaanse verleden. Het leven in de Appalachen was hard: bittere armoede, verwoeste oogsten, instortende kolenmijnen, stervende baby's, moord en doodslag en ga zo maar door. Niet voor niets konden die mensen veel beter met rampspoed omgaan dan wij tegenwoordig – ze moesten wel om de moed er in te houden. Hoe duister mijn teksten ook mogen zijn, er zit altijd wel een kier in waar een straaltje verlossing door naar binnen schijnt. Droevige liedjes werken verheffend, daar ben ik heilig van overtuigd."
Een liedje van haar - 'Pony' - is het verhaal van een
native American
kind dat in een speciale kostschool wordt ondergebracht door de overheid, waar hij wegkwijnt vanwege de heimwee naar zijn thuis. Een liedje van het album
Remembrance Of You
uit 2006, maar actueler dan ooit gezien de recente onthullingen in Canada en Amerika over het schrikbewind dat in dit soort kostscholen werd gevoerd.
Korte biografische schets
Jones woont en werkt in Nashville, maar werd geboren in New York 'als het product van een vluchtige romance' zegt ze zelf. Haar moeder, nog erg jong, stond haar af en Jones groeide op bij haar adoptieouders, die regelmatig verhuisden. In Rhode Island studeerde ze geschiedenis en kunst. Later werd ze verenigd met haar familie in het oosten van de staat Tennessee, in de uitlopers van de Smokey Mountains, waar ze zich meteen thuis voelde, volgens eigen zegge. Haar moeder kwam over uit Engeland; ze was getrouwd met een Brit en had met hem twee kinderen gekregen. Het bleek dat haar opa ook muzikant was en heeft gemusiceerd met country-fenomeen Chet Atkins. Op haar 23ste had ze ineens een hele familie erbij. Overigens, haar geboortejaar laat ze onvermeld.
Jones deed als 6-jarige al mee aan een talentenjacht, zong jarenlang in de kerk, in een schoolkoor en als 9-jarige vermaakte ze bewoners van een zorgcentrum met haar zang. Voor haar loopbaan verhuisde naar Austin in Texas. Ze maakte in eigen beheer twee albums die nooit bij een platenmaatschappij terecht zijn gekomen. Al tourend en optredend door het land, maakte ze vlieguren en groeide als muzikante en liedjesschrijver, zegt ze zelf. Ze verhuisde naar Northampton in Massachusetts, probeerde het te maken als muzikante, maar voorzag in haar onderhoud als portret- en huisschilder. Nadat ze aan een talentenjacht in Nashville meedeed, ging haar loopbaan crescendo. Tot haar inspiratiebronnen horen onder anderen Johnny Cash, Patsy Cline, Dolly Parton en Emmylou Harris.
De albums van Diana Jones: My Remembrance Of You (2006), Better Times Will Come (2009), High Atmosphere (2011), Museum Of Appalachian Recordings (2013), Live In Concert (2016) en Song Of A Refugee (2020). Een nog bescheiden, maar hoogstaand oeuvre.
Diana Jones wordt in Nederland geboekt door
LDM Bookings
, dat een indrukwekkende reeks artiesten vertegenwoordigd.