Disco inferno. Burn baby burn. Burn that mother down.
Harde donderklappen van de drummer, een bas die als door de duivel op de hielen gezeten doorpompt, koper dat schettert, schreeuwende vocalen. Een dansnummer dat niet op lijkt te houden.
Burn Baby Burn
. Het disco­-tijdperk wordt perfect samengevat in dat ene nummer,
Disco Inferno
, van de Amerikaanse formatie The Trammps. Disco Inferno is te vinden op de dubbelplaat
Saturday Night Fever,
de film die John Travolta tot megaster bombardeerde, waarvan volgens ingewijden in de platenindustrie wereldwijd zo'n vijftig miljoen exemplaren zijn verkocht. Het nummer is al even klassiek als de rest van die plaat.
Lees meer...
Ze is dertig­-en-­nog-­wat en ze zit in concertzaal Noorderligt te kijken naar de funk-formatie Average White Band. Het is vrijdagavond en een ongetwijfeld was het een drukke week. Als Average White Band nog maar goed en wel begonnen is, sukkelt ze in slaap; ­een fikse prestatie bij het volume dat het vijftal produceert. Het grootste deel van het concert brengt ze, als enige aanwezige, wat onderuit gezakt op haar stoel dommelend door. Ach, misschien heeft ze wel gelijk ook, want de kwaliteit van het concert doet wegdromen naar vroeger tijden, toen het Schotse sextet misschien wel de beste blanke funk­-soulband was.
Wat is er sindsdien misgegaan?
Lees meer...
Drie originele leden van de vroegere Average White Band vormen de kern van de groep die enkele jaren geleden weer werd gereanimeerd. Aan de muziek van toen is niets veranderd: soul met veel funk en een weinig jazz; uiterst strakke, dansbare muziek waarvan het onderlijf als vanzelf gaat bewegen. Morgen is in Noorderligt in Tilburg te zien en te horen of de band haar sexappeal nog niet verloren heeft.
Lees meer...
Het is te gemakkelijk om de rijpe leeftijd en ervaring van de Amerikaanse formatie Tower of Power te hanteren als redenen voor het muzikaal hoogstaande en uiterst sfeervolle concert dat de band afgelopen zaterdagavond in Tilburg gaf voor een nagenoeg uitverkocht Noorderligt.
Lees meer...
Na een succesvolle toernee door Amerika en Japan voert multi-­instrumentalist Larry Graham zijn funkformatie Graham Central Station nu ook door Europa. De start van deze concertenreeks vindt plaats in Noorderligt in Tilburg.
The Funk For A Million Years Tour ­Europe 96
heeft de veelgeroemde funkbassist Larry Graham zijn jongste toernee genoemd. Maar de funkmuziek heeft dan ook een speciale band met superlatieven en grootspraak. De formatie Graham Central Station stond in de jaren zeventig garant voor degelijke funkmuziek en concerten die oor en oog zelden te kort deden.
Lees meer...
Twee, drie maten hebben de Amerikaanse saxofonist Maceo Parker en zijn bandleden maar nodig om een nummer als een huis neer te zetten. De ritmesectie legt een fundament neer waarop het hele Interpolis-gebouw kan rusten.
Lees meer...
Twee procent jazz en achtennegentig procent
funky stuff
. Dat simpele recept hanteert de Amerikaanse saxofonist Maceo Parker, volgens eigen zeggen, bij zijn optredens. Zo'n vijfentwintig jaar als muzikale steun en toeverlaat van de fameuze soulkoning James Brown heeft Parker blijkbaar bescheiden gemaakt. Zijn optredens zijn een aanstekelijke mix van invloeden, ritmes en muzikale genres en een uitgekiend kat­-en­-muisspel van de doorgewinterde artiest met zijn publiek.
Lees meer...
03/01/96 22:46 Staat in:
Jazz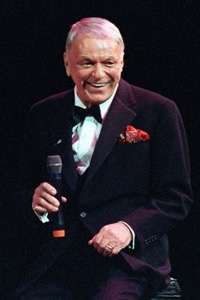 Frank Sinatra is vorige maand tachtig geworden. De commercie zorgt er voor dat het niemand kan ontgaan dat we hier te maken hebben met een mijlpaal in de Amerikaanse lichte muziek. Er verschijnen boeken, cd's, stropdassen; het kan niet op.
De eerste feestavonden rond de tachtigste verjaardag van zanger
hors categorie
Frank Sinatra, op 12 december vorig jaar, vonden al in juli plaats. Toen stond Carnegie Hall drie avonden lang in het teken van de man en zijn muziek. Het waren huldeblijken zoals alleen de Amerikaanse showbusiness haar eigen zonen en dochters kan geven. Met een stortvloed aan artiesten, de een beroemder dan de ander. En allemaal putten zij zich uit in loftuitingen op Sinatra.
Lees meer...