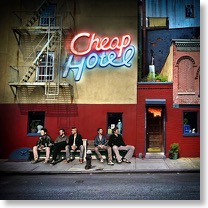 Volgens het Britse muziekblad Uncut maakt Mamas Gun
blue-eyed bubblegum soul
en dat klinkt niet erg veelbelovend. En toch was de vijfmansformatie uit Londen, die sinds 2007 bestaat, op toernee met onder anderen Ben l'Oncle Soul (leuke Franse retro-soul), Beverly Knight en de oudgedienden van Level 42. Op dit moment toert de groep met Lisa Stansfield (ooit erg beroemd) door Engeland. Met hun eerdere albums
Routes To Riches (2009)
and
The Life And Soul
(2011) hadden ze redelijk wat succes, met name in Azië. Mamas Gun maakt muziek op het snijvlak van pop en blanke soul, met een dosis ELO.
Wie vermoedt dat de band genoemd is naar het album
Mamas Gun
van Erykah Badu, die heeft gelijk. Maar de rauwe kantjes die aan de muziek van Badu kleven, mist Mamas Gun.
28/09/99 21:43 Staat in:
r&b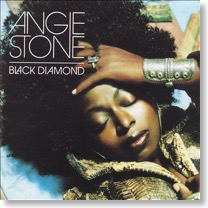 Het debuutalbum
Black Diamond
van de Amerikaanse zangeres Angie Stone heeft haar meteen gekatapulteerd tot de categorie 'souldiva'. Stone is inderdaad een bezield zangeres, ook in haar teksten. Toch verloochent zij haar muzikale wortels niet, getuige haar geslaagde versie van Marvin Gaye's klassieker
Trouble Man
. Het is juist die samensmelting van heden en verleden die Stone's album bijzonder maken. Aan Black Diamond werkten onder meer D'Angelo en Lenny Kravitz mee, waaruit blijkt dat Stone al enige status heeft verworven. Zij past in het rijtje Lauryn Hill, Erykah Badu en Mary J. Blige. Maar hoe goed dit album ook is, of ze het predikaat 'diva' waard is, moet ze de komende jaren nog bewijzen.
18/09/01 00:15 Staat in:
r&b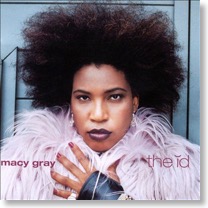 Van de gruizige soulstem van Macy Gray moet je houden. Ze is een combinatie van Aretha Franklin en Janis Joplin. Of van Eartha Kitt en Prince (aldus de Britse The Times). Met The id - wat staat voor het instinct van de mens - heeft ze haar debuutalbum
On how life
is (uit 1999) ruimschoots overtroffen. The Id is is gemaakt op gevoel, instinct desgewenst. Daardoor veel gevarieerder dan haar vorige cd. Neem het absolute hoogtepunt van The id:
Sexual revolution
. Dat nummer begint rustig met violen, vervolgens wordt het haast een discostamper en ontaardt het in zwaar op gitaren leunende funk. De mix ontspoort nergens, of ze nu kinderkoren in de strijd gooit of kiest voor ouderwetse soul. Heel bijzonder. Met bijdragen van onder anderen Erykah Badu, Angie Stone en het nieuwe talent Sunshine Anderson. Dat geeft de status van de 29-jarige Macy Gray als eigentijdse souldiva aan.