Soulveteranen Rufus Thomas en Junior Walker treden op in Noorderligt Tilburg: aanstekelijke dansmuziek uit oude doos.
Bij elke andere 75­-jarige artiest zou het een historisch, want misschien wel laatste, concert kunnen worden. Bij soulveteraan Rufus Thomas ligt dat anders. Niet alleen beschouwt hij zich als
'the oldest teenager of the world
', maar hij leeft al veertig jaar voor zijn optredens.
Lees meer...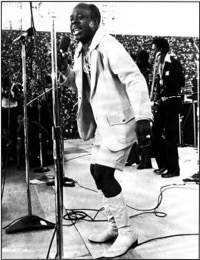 Een van de oudste en kleurrijkste nog actieve artiesten in de soulmuziek is de 74­-jarige ras­entertainer Rufus Thomas. Hij had enkele hits in de jaren vijftig en zestig en nog altijd zijn zijn dwaze nummers van toen - '
The Funky Chicken', 'The Dog', 'Can Your Monkey Do The Dog
' en '
Do The Funky Penguin'
- de ruggegraat van zijn energieke shows. Sinds 1971 pleegt hij die in korte broek af te werken.
Lees meer...