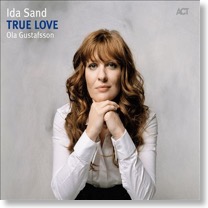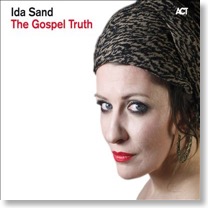 Een heel prettige vocaliste is de Zweedse Ida Sand (Stockholm, 1977). Heel bekend is ze niet buiten haar land, zo lijkt het althans. Ze heeft drie albums gemaakt:
Meet Me Around Midnigh
t (2007),
True Love
(2009) en
The Gospel Truth
(2011). Om de twee jaar, dus eigenlijk zou er dit jaar weer een nieuwe plaat moeten volgen... Haar favoriete muziekgenres zijn jazz, soul en gospel; ze zegt het meest beïnvloed te zijn door Stevie Wonder, Donny Hathaway en Aretha Franklin. Het is allemaal goed te horen op haar drie albums; hoewel ze duidelijk sterker leunt op het jazz- dan het soulrepertoire.
Elk album van Ida Sand biedt rustige luistermuziek, zonder dat de Zweedse vervalt in al te zoetsappige smooth jazz. Ze durft ook minder voor de hand liggende nummers te vertolken, zoals
Like A Prayer, Bang Bang, Ventura Highway
en
Here Comes The Rain Again
. Dat doet ze op een heel eigen manier: aangename stem, perfecte uitspraak van het Engels, beheerst swingend, goede arrangementen en degelijke begeleiding. Mooie late-avondmuziek dus, vooral toepasselijk even voordat Mr. Sandman toeslaat...