06/07/04 20:33 Staat in:
r&b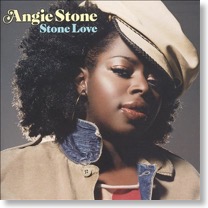 Van alle hedendaagse artiesten die in de categorie r&b worden ingedeeld, is dat etiket voor Angie Stone misschien wel het meest onterecht. Dat bewijst haar derde cd '
Stone Love'
maar weer eens. Ze vermijdt daar opnieuw de clichés die veel r&b zo moeilijk te verteren maken, zoals stoerdoenerij in de teksten, eenheidsworst in de arrangementen en een gebrek aan vocale bezieling. Stone daarentegen is een begenadigd zangeres, meer getalenteerd dan vele anderen. De Amerikaanse bewijst ook met haar nieuwe album dat ze dichter staat bij bijvoorbeeld de oude vocale kanonnen Aretha Franklin, Ann Peebles of Betty Wright (met wie ze een duet zingt in
'That Kind Of Love
), dan bij Missy Elliott, Mary J. Blige of Li'l Kim of andere grootheden van nu. Tot de hoogstandjes op dit uiterst relaxte album - een beetje meer peper had gemogen - behoren '
U-haul
' en '
Stay for a while'
(duet met Anthony Hamilton).