16/03/15 13:18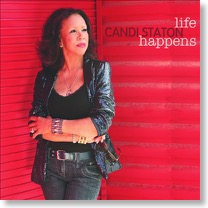 Na haar glorieuze terugkeer in 2006 in de seculiere muziek bracht de Amerikaanse zangeres Candi Staton in 2014 haar derde soulalbum uit, met nog een gospelplaat als tussendoortje. Op
Life Happens
schurkt ze tegen andere genres aan, zoals americana, blues en country. Meer dan op
His Hands
uit 2006 en
Who's Hurting Now
uit 2009. Maar Candi Staton (ze is geboren op 13 maart 1940 in Hanceville, Alabama), een van de meest ondergewaardeerde soulzangeressen van haar generatie, maakt er een mooi geheel van, ook al omdat ze een vast thema onderzoekt op de plaat: een relatie van ontluiking tot het bittere einde.
Haar stem lijkt wat brozer en een tikje sleetser dan vroeger, maar dat geeft de vijftien liedjes wat extra dramatiek.
Even the Bad Times Are Good
, zingt ze zelf. Voor de kenners: voor dit album werkte ze weer samen met Rick Hall van het fameuze Fame Records, die in de jaren zeventig ook diverse hits van Staton produceerde.
14/09/14 22:34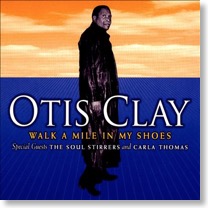 Otis Clay is een intense soulzanger die weliswaar nooit de status van zijn voornaamgenoot Otis Redding heeft bereikt, maar toch tot de groten van dit muziekgenre behoort. Daarnaast zingt hij al sinds het begin van zijn muzikale loopbaan gospels en heeft hij in de blueswereld ook een degelijke reputatie. Niet voor niets kreeg hij in 2013 een plaatsje in de
Blues Hall Of Fame
.
In 1983 trad hij voor een uitzinnig publiek van zo'n 45.000 mensen in Japan op - er is een album van gemaakt - en amper een jaar later zag ik hem zijn hart uit zijn lijf zingen op een geïmproviseerd podium in het cultureel centrum van Turnhout, voor enkele tientallen toehoorders. Zijn overgave was er niet minder om. Ik herinner me ook nog Clay's iets te korte broekspijpen van zijn jaren zeventig-soulpantalon; alsof hij geen geld had voor een nieuw podiumkostuum...
Walk a Mile in My Shoes
is een gospelalbum van Clay uit 2007, dat nu opnieuw is uitgebracht. Een zuivere gospelplaat is het niet; het album bevat ook seculiere nummers, zoals het breed uitgesponnen
Love's In Need Of Love Today
van Stevie Wonder. De
andere Otis
(bouwjaar 1942) is op dit album goed bij stem en wordt begeleid door veel kopergeschetter, zoals in de beste soultraditie. Clay zingt een live-duet met Stax-ster Carla Thomas en heeft een medley opgenomen met Soul Stirrers (bekend van Sam Cooke) Leroy en Arrthur Crume. Maar ondanks die brug naar de seculiere muziek, zullen niet-gelovigen nummers als
I Adore You Lord, Love Of God
en
On Jesus Program
puur vanwege de teksten een behoorlijke drempel vinden, ook al worden ze met grote begeestering vertolkt.
05/10/13 23:30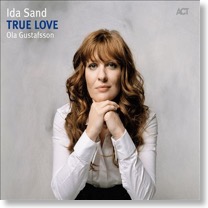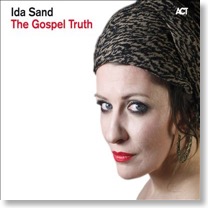 Een heel prettige vocaliste is de Zweedse Ida Sand (Stockholm, 1977). Heel bekend is ze niet buiten haar land, zo lijkt het althans. Ze heeft drie albums gemaakt:
Meet Me Around Midnigh
t (2007),
True Love
(2009) en
The Gospel Truth
(2011). Om de twee jaar, dus eigenlijk zou er dit jaar weer een nieuwe plaat moeten volgen... Haar favoriete muziekgenres zijn jazz, soul en gospel; ze zegt het meest beïnvloed te zijn door Stevie Wonder, Donny Hathaway en Aretha Franklin. Het is allemaal goed te horen op haar drie albums; hoewel ze duidelijk sterker leunt op het jazz- dan het soulrepertoire.
Elk album van Ida Sand biedt rustige luistermuziek, zonder dat de Zweedse vervalt in al te zoetsappige smooth jazz. Ze durft ook minder voor de hand liggende nummers te vertolken, zoals
Like A Prayer, Bang Bang, Ventura Highway
en
Here Comes The Rain Again
. Dat doet ze op een heel eigen manier: aangename stem, perfecte uitspraak van het Engels, beheerst swingend, goede arrangementen en degelijke begeleiding. Mooie late-avondmuziek dus, vooral toepasselijk even voordat Mr. Sandman toeslaat...
15/11/93 22:39
Voor een groep die zingt over de Here Jezus loopt het doorsnee schouwburgpubliek niet warm. Het zal gek zijn; thuis voor de tv worden per slot van rekening ook alle EO­-uitzendingen meteen weggezapt. Heel anders ligt het wanneer de groep bestaat uit vier blinde, zwarte èn bejaarde gospelzangers. Als The Five Blind Boys of Alabama zingen, gaan de armen zonder gêne de lucht in op teksten als 'Prijs de Heer' en levert elke emotionele uithaal een staande ovatie op.
Lees meer...