03/01/15 17:29 Staat in:
Soul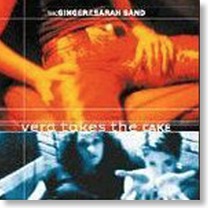 The Ginger & Sarah Band is opgericht in 1998 in Austin in de Amerikaanse staat Texas. Sindsdien zijn er er al weer twee reünie-toernees geweest van deze groep rond
Ginger Leigh
en
Sarah Dashew
. Ik weet niet precies hoeveel albums de beide dames - allebei ervaren artiesten en gezegend met een dijk van een stem - samen hebben gemaakt, wel dat
Vera Takes The Cake
hun tweede cd is. Dat album stamt uit 2000. Een overweldigende melange van verschillende muziekstijlen, soul, jazz, pop, rock, americana; een mix die nergens ontspoort of gezocht aandoet. En dan ook nog eens meeslepend gezongen, volwassen teksten met diepgang en uiterst zorgvuldig gearrangeerde nummers. Wie dit album bemachtigt zal constateren: onbekend maar niet onbemind!