08/07/06 22:30 Staat in:
r&b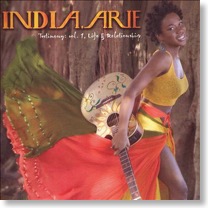 Na de eerste keer luisteren roept het derde album van de Amerikaanse zangeres en gitariste India.Arie enige scepsis op. Een beetje gewoontjes, saai zelfs. Maar na nog een paar keer draaien, opent het album zich steeds meer. Dan vallen de nuances op, de verrassende accenten in de arrangementen en vooral de boodschap die India.Arie in de nummers op
'Testimony: vol.1, life & relationships'
heeft gestoken. In tegenstelling tot veel van de hedendaagse r&b-artiesten heeft India.Arie (in het echt: India Arie Simpson) écht iets te zeggen. Op dit album gaat het vooral over relaties. Tussen man en vrouw, zwart en wit, oud en jong. De Afro-Amerikaanse India.Arie - die in haar land ambassadrice van Unicef is - bouwt sinds haar debuutalbum 'Accoustic soul' uit 2001 aan een bescheiden maar fascinerend oeuvre. Waarin zij een onmiskenbaar eigen geluid etaleert. Fijnzinnig. Wars van hokjes. Zo staat op 'Testimony' een nummer ('The heart of the matter') van Don Henley van The Eagles en doet Bonnie Raitt mee op 'I choose'. Naar verluidt is India.Arie al bezig met het tweede deel van 'Testimony'. Dat belooft wat.