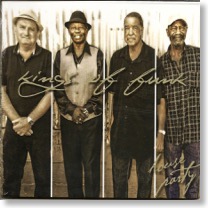 Ouderwets of retro? Of is dat hetzelfde? Hoe dan ook: de band Ted Graham's Kings of Funk tapt op het album
House Party
(2013) uit een bekend vaatje: soul, funk en een beetje blues. Voor oude en nieuwe fans van het genre herken- en genietbaar. De vier leden van de in New Orleans gevormde groep zijn allen veertig tot vijftig jaar actief in de muziekwereld en dat is te horen aan het gemak waarmee ze de nummers vertolken.
Niet alleen het genre is vertrouwd, de nummers ook:
634-5789, Bring It On Home To Me, My Girl, Tell It Like It Is, Ain't Too Proud To Beg, Walking The Dog, Twisting The Night Away
en
Dock Of The Bay.
Een mix van Stax- en Motown-klassiekers dus. Goed gezongen, goed gespeeld, maar nergens beter dan de originelen. Ook al is er niks vernieuwends aan, toch een leuk album.