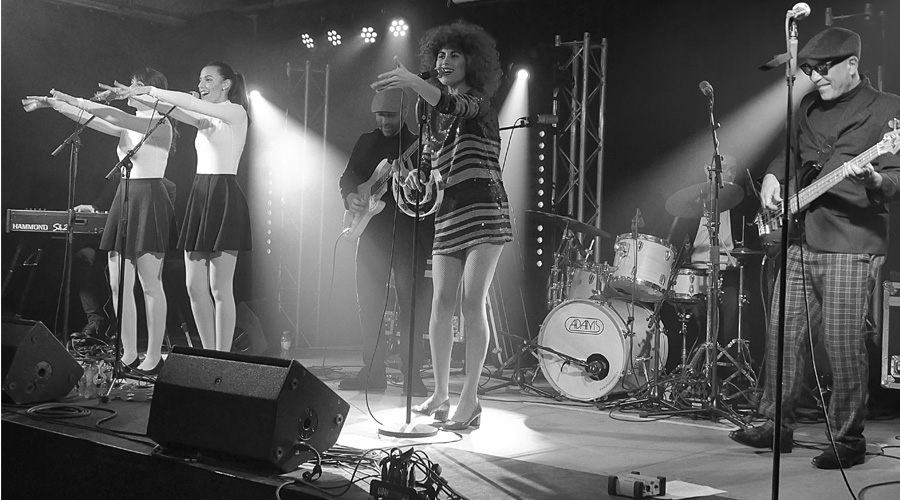 Een dubbele primeur was het optreden van de Spaanse soulband
The Lucilles
bij het Tilburgse Heyhoef Backstage zaterdagavond 18 maart. Voor het eerst speelde de tienmansformatie uit Madrid in Nederland en nog niet eerder had het muziekpodium in de Reeshof een Spaanse groep in huis.
The Lucilles is een bijzondere groep, alleen al omdat die bestaat uit muzikanten uit tal van landen: Spanje, Portugal, Argentinië, Frankrijk, Mexico en Amerika. Die amalgaam aan nationaliteiten speelt een typisch Amerikaanse muzieksoort: ouderwetse soul. Daar voegen ze vleugjes reggae, latin en ska aan toe.
De Spaanse muzikanten waren – de ene helft met de trein en de andere met één auto – zaterdag laat gearriveerd: omstreeks 18.30 uur. Net op tijd voor een soundcheck. Ze reisden zonder instrumenten naar hun eerste optreden in Nederland, die had de organisatie van Heyhoef Backstage voor hen bij elkaar geleend in de eigen wijk, de Reeshof. Het optreden zelf viel wat tegen: een soulband behoort als een goed geoliede machine over de toehoorders heen walsen, maar dat was niet echt het geval. Een ander minpunt is dat de Mexicaanse kopvrouw Lucille Hurt over een wat nasaal en beperkt stemgeluid beschikt. Daarnaast kleurt ze de uitspraak van de Engelse teksten duidelijk met haar Spaanse tongval in en bijt ze regelmatig het einde van die tekstregels af, wat de verstaanbaarheid ervan niet ten goede komt.
Op het concert in wijkgebouw Heyhoef kwamen zaterdag ongeveer 150 mensen af. Het voorprogramma werd gevuld door de getalenteerde Tilburgse zangeres
Sanae Casita
, die over beduidend meer vocale kwaliteiten beschikt dan de leadzangeres van The Lucilles.
De komende maanden staan onder meer de Amerikaanse band Billy Walton en de Servisch-Amerikaanse bluesgitariste Ana Popovic op het podium in de Reeshof. Ook is er een eerbetoon aan de fameuze Canadese zanger Leonard Cohen te horen. Na de zomervakantie trapt Tilburger André van den Boogaart met zijn Tornado's de nieuwe reeks concerten bij Heyhoef Backstage af. Dat is in een paar jaar uitgegroeid tot het leukste kleine muziekpodium van Tilburg.
Voor het eerst speelt de Spaanse soulformatie
The Lucilles
in Nederland en laat dat nou uitgerekend in Tilburg zijn, op het podium van
Heyhoef-Backstage
in de Reeshof.
Twee albums heeft de elf personen tellende band in zes jaar uitgebracht:
Sweet Soul Music Vol. 1
(2013) en
Northern Exposure
(2016), beide uitgebracht op het baskische label
Gaztelupeko Hotsa
. Die laatste - en ook betere - plaat bevat dertien energieke nummers. Veelal dansbaar, met af en toe een slijper ertussen. Gewoon klassiek, terug naar de jaren zestig, niks vernieuwends, wel degelijk. Zwaar leunen die nummers op de ritmesectie en het schetterende koper van de blazers. Retrosoul met af en toe een vleugje ska, latin en reggae. De Mexicaanse leadzangeres heeft een opvallende stem en typische voordracht, waardoor ze wat smartelijk klinkt. Maar ja, wat wil je als je Lucille Hurt heet.... Op het eerste album zit ze er soms net naast als het om haar uitspraak van het Engels gaat.
Dit is de rest van de bezetting van The Lucilles: Aldo Cavaleiro (bas, contrabas, Portugal), Ritchie García (gitaar, Spanje), Henar Rodríguez (toetsen, Spanje), Vanja Polaceki (drums, Argentinië), Marcos Ortega (trompet, Spanje), Guillaume Guinot (tenorsax, Frankrijk), D.J Mediano (baritonsax, Spanje), Bobby Lawrence (trombone, Amerika). En natuurlijk zijn er Lucillettes: Alba Sánchez en Lorena Caaveiro, beiden uit Spanje.
Lucille Hurt en Aldo Cavaleiro tekenen voor het meeste materiaal van de groep, die daarnaast ook klassiekers van Otis Redding, Sam Cooke en James Brown op het repertoire heeft staan.
De in Madrid gevestigde The Lucilles is in Spanje in 2015 uitgeroepen tot beste soulband van het land, maar wat dat precies wil zeggen valt moeilijk in te schatten, want hoeveel soulbands telt Spanje eigenlijk?