28/09/04 00:12 Staat in:
Soul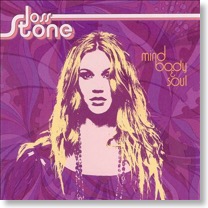 De Britse Joss Stone maakte vorig jaar een verpletterende entree in de popmuziek: 16 jaar oud pas en toch leverde ze een debuutalbum af ('The Soul Sessions', vol covers) waarop ze klonk als een rijpe souldiva. Een jaar ouder, een nieuw album ('Mind Body & Soul') grotendeels vol zelfgeschreven nummers, maar Stone klinkt nog altijd ergens tussen Aretha Franklin en Janis Joplin in. Haar stem is doorleefd, haar teksten snijden volwassen thema's aan. Dit is klassieke soul, met veel emotie in de zang en een strakke, dwingende begeleiding, onder meer van Angie Stone en Nile Rodgers (Chic). Soulveterane Betty Wright produceerde mee. De cd is over de hele linie sterk, zonder uitschieters naar boven of beneden. Iedere luisteraar moet maar voor zichzelf uitmaken of de 17-jarige Joss Stone als
soulsister
geloofwaardig genoeg is.