22/11/17 22:48 Staat in:
Jazz
Gregory Porter die liedjes van Nat King Cole zingt, het is misschien geen voor de hand liggende combinatie. Want De Amerikaan is een veelgeroemde hedendaagse jazzvocalist met enkele prachtige albums op zijn naam. Dat hij terug grijpt op het wat brave en zelfs oubollige repertoire van
crooner
Nat King Cole is toch een minder grote gok dan het lijkt. Porter is namelijk opgegroeid met de muziek van Cole en waardeert die enorm. Die bewondering spreekt uit het album
'Nat King Cole & Me'
. Met liefde gemaakt dus.
In plaats van de nummers zo getrouw mogelijk te vertolken, geeft hij er een eigen interpretatie aan. Die overigens nooit heel ver van het origineel vandaan ligt. Natuurlijk staan nummers als
Mona Lisa, Smile
en
Nature Boy
op het album. Het grote London Studio Orchestra onder leiding van Vince Mendoza dat hem begeleidt, speelt smetteloos. En toch is het zeker niet het beste album van Porter, daarvoor is het simpelweg te ouderwets.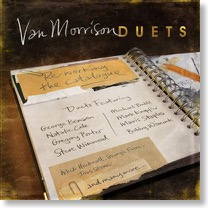 Lang in zijn loopbaan leek Van Morrison (Belfast, 1945) weinig mis te kunnen doen. Met fameuze platen als Astral Weeks, Moondance, Saint Dominic's Preview, Veedon Fleece, A Period Of Transition en Into The Music. Maar zo af en toe kroop er toch een mindere plaat tussendoor en de laatste decennia meer dan een. Duets: Re-Working The Catalogue bevat nieuwe opnames van oude nummers met in ieder nummer een andere bekende co-zanger. Dat doet het ergste vrezen, want doorgaans zijn die duetten-albums van grote artiesten amper te verteren.
Toch is die angst ongegrond, het is geen staaltje schmieren geworden en ook heeft Morrison niet een stel populaire sterren uitgenodigd, à la de Lady Gaga's van deze wereld, om maar een zo breed mogelijk publiek te verleiden. Een mooie staalkaart van zijn eigen indrukwekkende repertoire - zonder hits - is Duets, waaraan onder anderen Bobby Womack, Mavis Staples, P.J. Proby, Gregory Porter, Natalie Cole en Georgie Fame meewerken. Gelouterde artiesten dus die Morrison naadloos aanvullen. Dit album (Studio-album nummer 35 alweer) is dan ook heel wat beter dan de plaat You Win Again die hij in 2000 uitbracht met Linda Gail Lewis.