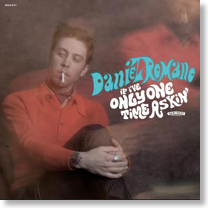 Daniel Romano (1985) is een man met veel talenten. Hij is grafisch ontwerper, leerbewerker en zanger, muzikant en producer. De uit Welland in het Canadese Ontario afkomstige Romano maakt
vintage
country. Prachtige treurige ballades zingt hij met een warme stem waarin het echte countrygevoel zit ingebakken. Het onlangs uitgebrachte
If I've Only One Time Asking
is zijn vierde volledig eigen studio-album, na
Workin' For The Music Man
(2010),
Sleep Beneath The Willow
(2011) en het prachtige
Come Cry With Me
uit 2013, waarin hij tussen de regels door ook een vette knipoog naar zijn eigen genre leek te maken. Natuurlijk zingt hij op zijn thuis opgenomen nieuwste album over
cold bitter hearts, hardship
en meer hartzeer en smart, die hij met levenswijsheden poogt te dempen, wat niet lukt, maar zo hoort het ook. De Canadees Romano hoort in de traditie van Hank Williams, Johnny Cash, de modernere Gram Parsons, maar vooral George Jones, de
crooner
onder de country-giganten.
Het nummer
The One That Got Away (Came Back Today)
kent een stijlvreemd einde, waarin Romano
'mosey'
prevelt. Dat is de naam die hij zelf aan zijn muziek geeft, liever dan dat hij over country of Americana spreekt.