23/05/15 22:57 Staat in:
Soul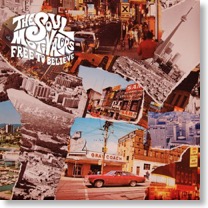 En weer een meeslepend nieuw retro-soulbandje:
The Soul Motivators
. Denk aan The Dap-Kings of The Menahan Street Band. Dit keer is het een negenkoppige formatie uit Toronto, Canada, in 2011 gevormd door muzikanten die hun sporen al lang verdiend hadden in hun vak. De blazers excelleren uitbundig op een oerdegelijk, maar niet voorspelbaar fundament. Voeg daar puntig gitaarwerk bij en het resultaat is een stevige, volle dosis funk op
Free To Believe
, het debuutalbum van The Soul Motivators dat deze maand is verschenen. De nummers zijn deels instrumentaal, deels met vocalen van de nog jonge Lydia Persaud, die door haar inbreng de muziek naar de soulkant trekt. Alles klopt op dit album, dat al aardig in de buurt komt van het beste werk van Sharon Jones en haar Dap-Kings. O ja, volgens de eigen
Facebookpagina
speelt de groep
vintage funk
. Het is maar dat u het weet.