Na een succesvolle toernee door Amerika en Japan voert multi-­instrumentalist Larry Graham zijn funkformatie Graham Central Station nu ook door Europa. De start van deze concertenreeks vindt plaats in Noorderligt in Tilburg.
The Funk For A Million Years Tour ­Europe 96
heeft de veelgeroemde funkbassist Larry Graham zijn jongste toernee genoemd. Maar de funkmuziek heeft dan ook een speciale band met superlatieven en grootspraak. De formatie Graham Central Station stond in de jaren zeventig garant voor degelijke funkmuziek en concerten die oor en oog zelden te kort deden.
Lees meer...
02/07/98 21:04 Staat in:
Funk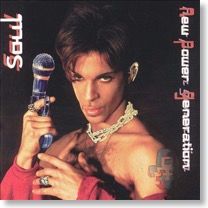 De Artiest-Die-Wij-Gewoon-Prince-Blijven-Noemen is na wat privé-tegenslagen en geflirt met internet terug met een gewone, via de platenhandel verspreide cd:
New Power Soul
. Echt terug, want deze cd is als vanouds: vette hypnotiserende funk en enkele breekbare ballads. Het ene moment wordt heel devoot de Heer geprezen en in het volgende nummer jubelt Prince over '
mad sex in the horny morning'
. Die Prince...
Af en toe is de alleskunner ietwat te moralistisch, zoals in
Come On,
maar het zij hem vergeven, want dit is een ouderwetse Prince, ook al staan er geen echte klappers op NPS. Niet te snel afzetten trouwens deze cd, onder nummer 49 zit nog een liedje verstopt. Waarom dat zo is gedaan, is een raadsel. Prince en zijn hechte begeleidingsband New Power Generation kregen voor New Power Soul hulp van onder anderen Chaka Kahn en Larry Graham.
Het is te gemakkelijk om de rijpe leeftijd en ervaring van de Amerikaanse formatie Tower of Power te hanteren als redenen voor het muzikaal hoogstaande en uiterst sfeervolle concert dat de band afgelopen zaterdagavond in Tilburg gaf voor een nagenoeg uitverkocht Noorderligt.
Lees meer...