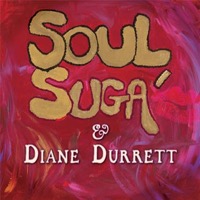 Ze zingt, schrijft liedjes, is producer en heeft ook een boek op haar naam staan:
Driving Music City
(2009). En dan treedt ze met haar bedrijfje
Blooming Tunes
ook nog op als coach van andere artiesten.
Diane Durrett
heet dit multitalent, dat als uitvoerend artiest het podium deelde met onder anderen Sting en Gregg Allman. Ook stond ze in het voorprogramma van Tina Turner, Faith Hill, Little Feat, Delbert McClinton, Derek Trucks en anderen. Haar eerste album
50.000 Volts Of Soul
verscheen in 1993; haar jongste en zevende album heeft ze gemaakt met Soul Suga.
Soul Suga & Dianne Durrett
heet dat en het bevat prettige soul. Elf nummers, wisselende ritmen en tempi, vaak soul, soms funk, blues of New Orleans-jazz. Diane Durrett bindt de individuele nummers samen tot een mooi geheel met haar pakkende stem (een tikje rauw maar ook uitdagend; het openingsnummer heet niet voor niets
Show Up Sexy
), die zowel in het soul- als bluesgenre past. Maar ze komt dan ook uit Atlanta in de Amerikaanse staat Georgia; de meeste muzikanten die meedoen op deze plaat wonen daar ook. En ze maakt vanuit die uitvalsbasis al zo'n dertig jaar muziek, over eigen naam, maar ook met het trio
Women Of Rock
(samen met Caroline Aiken en Donna Hopkins). Het enige nummer dat een beetje tegenvalt op dit bovengemiddelde album is de Beatles-cover
Let It Be
.
De thuisblijvers hadden ongelijk. De
Leif de Leeuw Band
speelde zaterdagavond 16 april de pannen van het dak op het podium van Heyhoef Backstage in de Reeshof in Tilburg. Zo'n honderd mensen genoten van de potente mix van blues en (southern) rock van deze jonge Nederlandse band.
Degenen die er wel waren, werden verrast door de muur van geluid die de vier jonge muzikanten produceerden en die perfect klonk in de ambiance van dit Tilburgse muziekpodium. Vol, krachtig, maar ook rijk aan nuances. Vakmanschap en bezieling klonken door in alle nummers, de zelf gecomponeerde maar ook de vertolkingen van bijvoorbeeld One Of These Nights van The Eagles en Whipping Post van The Allman Brothers Band. De afsluiter van het concert in wijkcentrum Heyhoef was overigens de kers op de taart: een meeslepende uitvoering van de klassieker Hocus Pocus van Focus. Zangeres-gitariste Britt Jansen beheerst dus niet alleen het idioom van de blues-rock maar kan ook nog eens een aardig partijtje jodelen. Zonder er een karikatuur van te maken zoals Thijs van Leer in zijn nadagen wel deed.
Dat nummer en trouwens het hele optreden toonde ook aan dat Leif de Leeuw hard op weg is een grote meneer te worden; als gitaarheld Jan Akkerman hem hoort en ziet spelen moet hij wel denken dat het met zijn erfenis goed zit. De Leeuw won niet voor niets twee keer de Sena Young Talent Guitar Award.
Vier muzikanten telt de Leif de Leeuw Band. Frontvrouw Jansen en naamgever De Leeuw mogen misschien de meeste aandacht naar zich toe trekken op het podium, maar hun twee medebandleden zorgen voor een meer dan solide basis om op te excelleren. Het aandeel van Eibe Gerhartl op bas en Tim Koning op drums in het krachtige geluid van de groep mag niet onderschat worden. De soli die beiden mochten spelen, maakten dat glashelder. Twee klasbakken.
Voeg vier talentrijke jonge muzikanten bij elkaar en dan is het begrijpelijk dat de Leif de Leeuw Band de Dutch Blues Challenge heeft gewonnen, in 2014. Alleen doet het label 'bluesband' de groep geen recht. De aanwezigen zaterdagavond bij Heyhoef-Backstage in Tilburg zullen dat beamen. De thuisblijvers hebben een van de beste bands van Nederland gemist.