06/01/15 22:31 Staat in:
Soul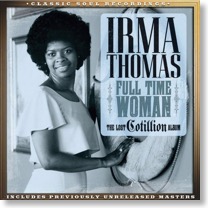 Meer dan veertig jaar nadat de nummers opgenomen zijn - en vervolgens op twee na nooit uitgebracht - voor Atlantic's dochtermaatschappij Cotillion zijn vijftien liedjes van soullegende Irma Thomas alsnog samen op een album verschenen. Met de toepasselijke titel
Full Time Woman - The Lost Cotillion Album
. Alleen
Full Time Woman
en
She's Taken My Part
verschenen in 1971 samen op een single, die weinig succes had.
Dat was een tegenvaller voor Irma Thomas en Atlantic. De getalenteerde zangeres uit New Orleans was namelijk landelijk al doorgebroken. Via diverse platenmaatschappijen was ze in 1971 uiteindelijk bij Atlantic terecht gekomen, waar de befaamde Jerry Wrexler een van de grote mannen was. Tijdens de eerste opnamesessie in 1971 werd onder meer
Full Time Woman
opgenomen. In de loop van 1972 zouden in Detroit, Miami en Philadelphia nog andere opnamebeurten volgen, ondanks het geringe succes van de single. Dat materiaal werd echter nooit uitgebracht. Tot afgelopen jaar.
Thomas zingt op
Full Time Woman
nummers van diverse liedjesschrijvers en andere artiesten, afkomstig uit zowel de soul- als de countryhoek. Die verschillende opnamesessies in meerdere steden en de variëteit aan nummers en genres maken deze plaat weliswaar iets minder samenhangend dan veel van haar andere werk, maar het album is nog altijd een klasse-productie. En dus niet slechts een mooie historische aanvulling op haar indrukwekkende oeuvre.
Dat deze uitgave tot stand is gekomen, is vooral te danken aan David Nathan, al decennia geschiedschrijver van de soulmuziek, die de tapes opspoorde.
25/04/06 23:31 Staat in:
Soul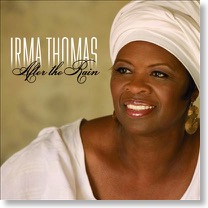 De Amerikaanse soulzangeres Irma Thomas trad op in Austin, Texas, toen orkaan Katrina ook haar huis in New Orleans wegspoelde. Het is dan ook verleidelijk om haar nieuwe album 'After the rain' in dat dramatische licht te bezien, zeker met nummers erop als 'Shelter in the rain' en 'In the middle of it all'. Maar de waarheid is anders: het merendeel van het materiaal was al uitgekozen voor dit album dat de 65e verjaardag van de souldiva markeert. Dus gaat het op 'After the rain' niet over natuurgeweld of over de bestuurlijke wanprestatie in haar stad, maar over persoonlijke zaken. Over mannen, relaties, liefde, trouw, ofwel: de vaste thema's van Thomas. Zij heeft een sober soul-album afgeleverd, gedrenkt in de blues. De patente muzikanten James Singleton (bas), Stanton Moore (drums) en vooral Sonny Landreth (slide-gitaar) bieden Thomas alle ruimte om vocaal te excelleren. Een juweeltje is de klassieker 'I count the tears' van het legendarische componistenduo Doc Pomus en Mort Shuman. Het nummer is afgepeld tot de kern en zorgt voor rillingen over de rug. Maar dat laatste geldt voor het hele album.