24/09/98 21:35 Staat in:
Funk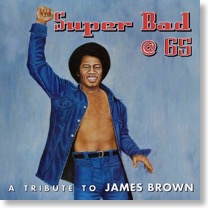 Curtis Mayfield kreeg in 1993 al zijn tribute-cd en Marvin Gaye in 1995. Nu heeft
The Godfather of Soul
ook eindelijk zijn muzikale eerbetoon:
Super Bad @ 65
heet dat album. De zestien artiesten die werk van de oude funkgrootmeester vertolken, komen verrassend genoeg niet uit de soul- en r&b-hoek. Frank Black (ex-Pixies), de New-Yorkse cultmuzikant Don Fleming, Nels en Carla van de Ameirkaanse gitaarrockband Geraldine Fibers en bands als Sex Mob en Swingin' Neckbreakers zorgen voor een uiterst gevarieerde en eigenlijk ook bizarre cd. De een blijft dicht bij het origineel, anderen laten de gitaren gieren totdat er vertolkingen van beton staan. Dat maakt de cd wel erg wisselvallig en daarmee vlees noch vis. Je zou ook kunnen zeggen: het maakt de cd de moeite waard voor verstokte Brown-fans - het album bewijst dat hij nummers heeft gemaakt die elke bewerking doorstaan - en voor liefhebbers van stevige (gitaar)rock.