Twee procent jazz en achtennegentig procent
funky stuff
. Dat simpele recept hanteert de Amerikaanse saxofonist Maceo Parker, volgens eigen zeggen, bij zijn optredens. Zo'n vijfentwintig jaar als muzikale steun en toeverlaat van de fameuze soulkoning James Brown heeft Parker blijkbaar bescheiden gemaakt. Zijn optredens zijn een aanstekelijke mix van invloeden, ritmes en muzikale genres en een uitgekiend kat­-en­-muisspel van de doorgewinterde artiest met zijn publiek.
Lees meer...
Ga op een willekeurige avond naar zo maar 'n dansclub of disco waar ook ter wereld. Zonder twijfel is dan een of meer keer muziek van James Brown te horen. Brown is wereldwijd het onbetwiste boegbeeld van de soul­- en funkmuziek, de zwarte dansmuziek bij uitstek. Geen enkele individuele muzikant is belangrijker geweest voor deze muziek dan de 62­-jarige Brown.
The hardest working man in showbusiness
, een van de vele titels die hij zichzelf heeft gegeven, is volgende week donderdag 8 april voor een eenmalig concert in Nederland; hij treedt dan op in de Brabanthallen in Den Bosch.
Lees meer...
It's startime with Mr. Dynamite, Soulbrother no.1, the Godfather of Soul... Jáámes Bróówn
. De in superlatieven gedrenkte aankondiging bij aanvang van het concert van James Brown moet de toehoorders komende woensdag alvast week maken voor het absolute boegbeeld van soul­ en funk. Dan is
The hardest working man in showbusiness
weer in Nederland. Aan de vooravond van het North Sea Jazz Festival is Brown te gast in de Statenhal in Den Haag.
Lees meer...
Elke jeugdige r&b-liefhebber zou verplicht naar de theatershow R.E.S.P.E.C.T. moeten gaan. Al was het alleen maar om te horen aan welke artiesten de huidige zwarte hitparadebestormers en MTV-stamgasten schatplichtig zijn. De 'gouden eeuw' van de soul, funk en klassieke rhythm & blues - de jaren zeventig en tachtig - komt in deze show aan bod.
Lees meer...
Wie zich zo schaamteloos op de borst klopt als soul- en funk­gigant James Brown hoeft niet te rekenen op enige clementie. Iemand die zich
Mister Dynamite, Soulbrother Number One, The Godfather of Soul
noemt en zich nog dertig andere hoogdravende eretitels heeft gegeven, moet dat dan ook maar waarmaken. Geen gezeur over die bijna vut-­leeftijd, de langdurige tegenwind in zijn carrière of die forse gevangenisstraf die hij net achter de rug heeft. James Brown opende gisteravond officieus het North Sea Jazz Festival en liet zien dat hij nog niet afgeschreven is.
Lees meer...
Buiten in de korte rijen voor aanvang van het concert van James Brown in de Brabanthallen gaan de gesprekken ook in het Engels en het Duits. Een optreden van de vitale zestiger - koning van de soul­ en de funk - trekt mensen van over de landsgrenzen. Ook al zijn het er tegenwoordig niet veel meer. Organisator Leo van Hal brak het zweet ervan uit. Zo'n 2.500 mensen kwamen naar Brown en zijn band kijken; het betekent een verliespost met de omvang van een bovenmodaal jaarsalaris.
Lees meer...
24/09/98 21:35 Staat in:
Funk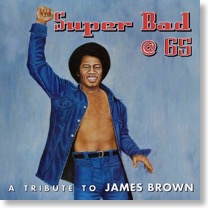 Curtis Mayfield kreeg in 1993 al zijn tribute-cd en Marvin Gaye in 1995. Nu heeft
The Godfather of Soul
ook eindelijk zijn muzikale eerbetoon:
Super Bad @ 65
heet dat album. De zestien artiesten die werk van de oude funkgrootmeester vertolken, komen verrassend genoeg niet uit de soul- en r&b-hoek. Frank Black (ex-Pixies), de New-Yorkse cultmuzikant Don Fleming, Nels en Carla van de Ameirkaanse gitaarrockband Geraldine Fibers en bands als Sex Mob en Swingin' Neckbreakers zorgen voor een uiterst gevarieerde en eigenlijk ook bizarre cd. De een blijft dicht bij het origineel, anderen laten de gitaren gieren totdat er vertolkingen van beton staan. Dat maakt de cd wel erg wisselvallig en daarmee vlees noch vis. Je zou ook kunnen zeggen: het maakt de cd de moeite waard voor verstokte Brown-fans - het album bewijst dat hij nummers heeft gemaakt die elke bewerking doorstaan - en voor liefhebbers van stevige (gitaar)rock.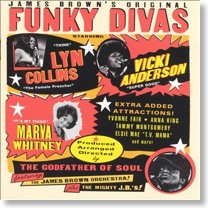 Elf klassieke albums van James Brown zijn door Polydor opnieuw uitgebracht. De compilatie
James Brown's Original Funky Divas
is daarvan de verrassendste cd. Op deze dubbelaar (twee keer ruim 75 minuten muziek!) staat werk van een dozijn zangeressen met wie James Brown in de jaren zestig en zeventig zo succesvol toerde. Een greep: Vicki Anderson, Yvonne Fair, Lyn Collins, Sugarpie DeSanto, Tammy Montgomery (later beroemd geworden als Tammi Terrel) en Anna King. De dames moesten zich in de glorietijd van
The Godfather of Soul
volledig ondergeschikt aan de grote roerganger maken. Ze mochten de show openen en ook af en toe zelf platen opnemen, meer niet. Hoe onterecht dat tweede plan was, blijkt uit deze smetteloze compilatie; lof ook voor het informatieve cd-boekje. Van blues tot soul, van gospel tot funk: de diva's van Brown zijn de absolute top.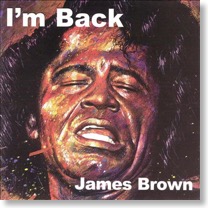 De hoogtijperiode van The Godfather Of Soul James Brown, de grote funkvernieuwer, lag tussen eind jaren vijftig en zeventig. De opkomst van andere muziekgenres, zijn verslavingen, huwelijksperikelen en een jarenlang verblijf in de gevangenis hebben hem weinig goed gedaan. De vocale kwaliteiten van de man, 65 jaar inmiddels, vertonen fikse slijtage. Vooral tijdens zijn concerten is te zien dat hij op oude roem teert: veel pose, weinig prestatie. Dat valt minder op op zijn nieuwste album:
I'm Back
. Een behoorlijke band legt een degelijke funkbasis onder de nummers. Sommige nummers swingen als (bijna) vanouds. Maar toch ook: veel herhalingen (drie versies van hetzelfde nummer en ook
Papa's Got A Brand New Bag
komt weer eens voorbij) en weinig originaliteit. De echte glans is er vanaf.