24/09/20 09:42 Staat in:
Soul
Goed nieuws voor muziekliefhebbers: nieuwe albums van Bettye Lavette (Blackbirds) en Dan Penn (Living on Mercy). Beide zeer de moeite waard. De oude garde - Lavette 74 jaar en Penn 78 - doet het nog best. Lavette met liedjes van zangeressen die ze bewondert. Dan Penn met dertien nummers in de traditie van zuidelijke soul. Hij is bekend van nummers als I'm Your Puppet, At The Dark End Of The Street en Do Right Woman, Do Right Man,die vooral door anderen groot gemaakt zijn. Mooie eigen liedjes zijn het ook dit keer weer. Doorleefd.
27/01/15 22:56 Staat in:
Soul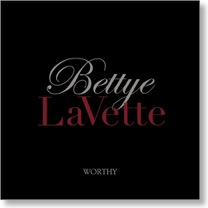 Neem elf liedjes van gerenommeerde tekstschrijvers , geef ze aan de Amerikaanse soulzangeres
Bettye LaVette
(bouwjaar 1946) en zij maakt er een bijzonder album van. Dankzij haar wat gruizige stem en meeslepende stijl, die soms verleidt, soms klaagt en kermt, maar ook kan geselen.
Dat LaVette in de vijftig jaar die haar loopbaan omspant toch langdurig onder de radar van het grote publiek kon blijven is in retrospectief onbegrijpelijk. Inmiddels is zij terug in het spotlicht - op het inauguratiefeestje van president Barack Obama mogen zingen (in 2009) heeft haar faam geen kwaad gedaan -, heeft ze volop werk en maakt ze weer regelmatig nieuwe albums. Met Worthy als nieuwste.
Daarop vertolkt ze elf nummers, van onder anderen Bob Dylan, Mickey Newburry, Mick Jagger/Keith Richards, John Lennon/Paul McCartney en Beth Nielsen Chapman/Mary Gauthier. Grote kwaliteit over de hele linie; het nummer
Undamned
van Linford Detweiler is zelfs een juweeltje. Volgens The New York Times behoort ze inmiddels met Aretha Franklin tot de meest vitale soulzangeressen van haar generatie. Maar dan wel een met een soms
bizarre levensloop
- zwanger op 14-jarige leeftijd, gescheiden op haar vijftiende - die ze uitgebreid beschreven heeft in haar
autobiografie
A Woman Like Me
uit 2012.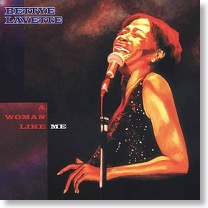 Bijna zestig jaar is de Amerikaanse soulzangeres Bettye Lavette. Haar eerste plaatje kwam op haar zestiende uit. Inmiddels zit ze 43 jaar in de muziekwereld, kijkt ze terug op wat vroege hitjes en vond ze vooral veel weerklank onder soulfanaten. Bij een breed publiek brak ze nooit echt door. Recent werd Lavette genomineerd voor vier Handy Blues Awards, onder meer in de categorie
Beste comeback album
. Dat label is niet helemaal terecht, omdat ze een paar jaar geleden al overtuigend terugkwam met de geweldige live-cd
Let Me Down Easy
, uitgebracht door het Nederlandse Munich. Minstens zo sterk is haar nieuwste album
A Woman Like Me
. Opnieuw klassieke soul, hoewel dat tegenwoordig
deep soul
moet heten. Rauw. Emotioneel, zonder ook maar een seconde uit de bocht te vliegen. Geen enkel zwak moment op dit album. Een degelijke begeleiding. Mooi dus. En eindelijk erkenning voor Bettye Lavette.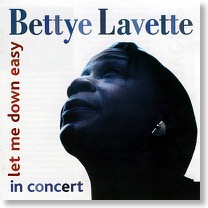 Deep soul heet het genre tegenwoordig; ouderwetse Amerikaanse soulmuziek. Bettye Lavette (1946) is een van de onbekendere exponenten van die muziekstroming. De Amerikaanse zangeres kreeg door pech, toeval, verkeerde keuzes en ander malheur maar geen vaste basis in de muziekindustrie. Ondanks een hitje hier en daar en ondanks dat ze al sinds begin jaren zestig meedraait. Weinig muziek op plaat of cd te krijgen dus, tot ergernis van een groepje echte liefhebbers. Bijzonder is het dat het Nederlandse Munich Records een live-album van Lavette heeft uitgebracht. Geen vernieuwende muziek. Wel klassieke soul van een zeer bezielde zangeres, die enkele nummers uitrekt tot smartelijke smeekbedes. Voor velen eindelijk een kans om het werk van Lavette op cd te bemachtigen. Zeer de moeite waard.