Live: The Lucilles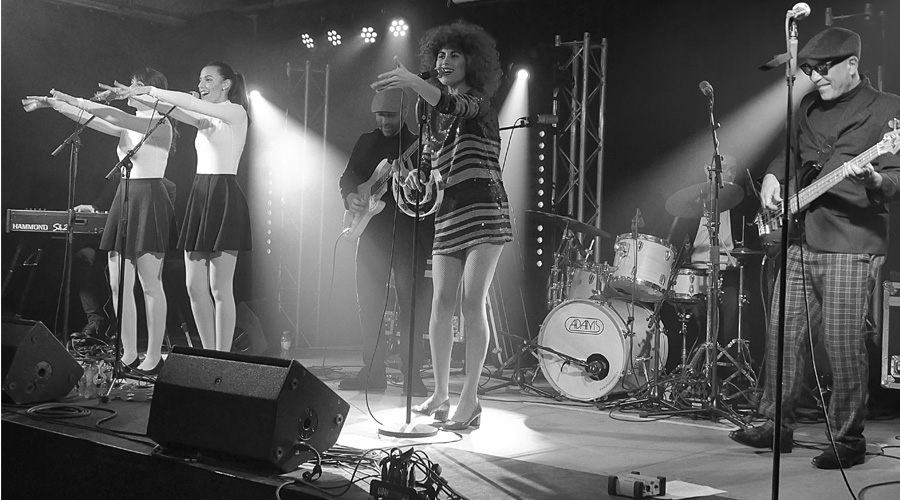 Een dubbele primeur was het optreden van de Spaanse soulband
The Lucilles
bij het Tilburgse Heyhoef Backstage zaterdagavond 18 maart. Voor het eerst speelde de tienmansformatie uit Madrid in Nederland en nog niet eerder had het muziekpodium in de Reeshof een Spaanse groep in huis.
The Lucilles is een bijzondere groep, alleen al omdat die bestaat uit muzikanten uit tal van landen: Spanje, Portugal, Argentinië, Frankrijk, Mexico en Amerika. Die amalgaam aan nationaliteiten speelt een typisch Amerikaanse muzieksoort: ouderwetse soul. Daar voegen ze vleugjes reggae, latin en ska aan toe.
De Spaanse muzikanten waren – de ene helft met de trein en de andere met één auto – zaterdag laat gearriveerd: omstreeks 18.30 uur. Net op tijd voor een soundcheck. Ze reisden zonder instrumenten naar hun eerste optreden in Nederland, die had de organisatie van Heyhoef Backstage voor hen bij elkaar geleend in de eigen wijk, de Reeshof. Het optreden zelf viel wat tegen: een soulband behoort als een goed geoliede machine over de toehoorders heen walsen, maar dat was niet echt het geval. Een ander minpunt is dat de Mexicaanse kopvrouw Lucille Hurt over een wat nasaal en beperkt stemgeluid beschikt. Daarnaast kleurt ze de uitspraak van de Engelse teksten duidelijk met haar Spaanse tongval in en bijt ze regelmatig het einde van die tekstregels af, wat de verstaanbaarheid ervan niet ten goede komt.
Op het concert in wijkgebouw Heyhoef kwamen zaterdag ongeveer 150 mensen af. Het voorprogramma werd gevuld door de getalenteerde Tilburgse zangeres
Sanae Casita
, die over beduidend meer vocale kwaliteiten beschikt dan de leadzangeres van The Lucilles.
De komende maanden staan onder meer de Amerikaanse band Billy Walton en de Servisch-Amerikaanse bluesgitariste Ana Popovic op het podium in de Reeshof. Ook is er een eerbetoon aan de fameuze Canadese zanger Leonard Cohen te horen. Na de zomervakantie trapt Tilburger André van den Boogaart met zijn Tornado's de nieuwe reeks concerten bij Heyhoef Backstage af. Dat is in een paar jaar uitgegroeid tot het leukste kleine muziekpodium van Tilburg.