Boek: Heart & Soul
Sport en entertainment. Dat waren decennialang de twee belangrijkste maatschappelijke terreinen waarop Afro­-Amerikanen naam en faam konden verwerven in Amerika. De invloed van zwarte Amerikanen op de muziekwereld staat beschreven in het kleurrijke boek 'Heart & Soul, a celebration of black music style in Amerika 1930­-1975'. Het is een onverbloemd eerbetoon aan de zwarte muzikanten uit die periode, van Duke Ellington, Illinois Jacquet en Buster Brown tot Etta James, Honey & The Bees, Marvin Gaye, Percy Sledge en Little Richard.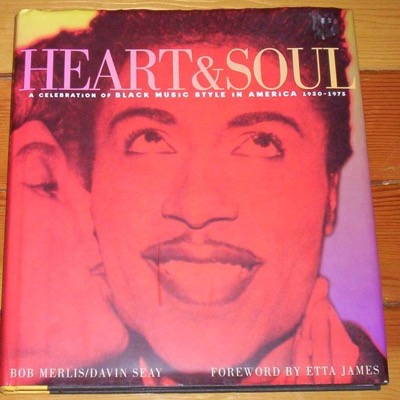 Het luxe uitgevoerde Heart & Soul is geen diepgravend onderzoek naar de betekenis van zwarte muziek. Het is vooral een plaatjesboek vol herinneringen uit de jaren 1930-­1975: platenhoezen, affiches, foto's, reclames. In vogelvlucht vliegen de auteurs Bob Merlis en Davin Seay langs de artiesten uit die periode. Zelden krijgt een artiest meer dan een paar alinea's, hoe belangrijk of populair die persoon ook was.

Big band-tijdperk
De auteurs hebben hoofdzakelijk oog voor de muzikanten en hun stijl, hun kleding, hun uiterlijk, hun imago. Slechts marginaal komen toch niet onbelangrijke onderwerpen als de teloorgang van het big band-tijdperk of de opkomst van de hele Black Pride­-beweging aan bod. Er blijft veel onverteld. Zo melden de auteurs bij een afbeelding van de platenhoes 'Etta James Rocks The House' dat het verband aan de arm van zangeres Etta James niet kwam omdat ze zich geblesseerd had, maar om de naaldwondjes en dus haar verslaving te verbergen. Verslaving, schaamteloze uitbuiting door platenbonzen en rassenscheiding komen nauwelijks aan bod.
Op het podium waren de zwarte artiesten een ster, ook voor een blank publiek, maar op tournee mochten ze decennialang niet in 'blanke' restaurants of moesten ze aparte wc's gebruiken in openbare gelegenheden. Daarover gaat het boek allemaal niet. Wel over de positieve invloed die zwarte artiesten op de vermaakindustrie hebben gehad. Met hun uitbundige kleding en uiterlijk (van zoot suits tot space­-kapsels) bijvoorbeeld, maar ook met hun flamboyante optredens. In tijden dat blanke artiesten als Doris Day, Frank Sinatra en Pat Boone vooral heel keurig waren, ging bij types als Cab Calloway, T­-Bone Walker en Rufus Thomas het dak van de zaal. Neem Elvis Presley, zijn stijl is terug te voeren naar 'zwarte' voorbeelden, naar de snake hips van Mahalia Jackson bijvoorbeeld. 'Zwarte artiesten hebben altijd de toon gezet met hun wilde stijl wat betreft dans en kleding (...) Zij hebben de wijze waarop muziek oogt voor altijd veranderd. Of het genre nu jazz, swing, soul of rock 'n' roll is, hun uitbundigheid en aanstekelijke energie is de bindende factor.'

Afbeeldingen
Oppervlakkige biografische schetsjes en snelle conclusies, in de tekst ligt de grote aantrekkingskracht van het boek niet. Wel in de afbeeldingen, in kleur, ingebed in een fraaie vormgeving. Lang vergeten en nog altijd bekende artiesten komen op originele platenhoezen voorbij, op affiches, foto's. Zo staat er een aanstekelijke reclame van vibrafonist Lionel Hampton voor Bull Dog Beer in het boek en eentje van trompettist Louis Armstrong. Hij maakt reclame voor Camel ('No other cigarette is so rich­-tasting yet so mild as Camel'). Nog meer leuks: een foto van Muddy Waters met krulspelden. Een platenhoes van Lynn Hope, die door het leven ging als 'The Maharaja of the Saxophone'. De omslag van het blad Sepia met daarop Dinah Washington, de vrouw met de hemelse stem en het helse leven, met een potsierlijke blonde pruik en de kop 'Me and my six husbands'. Little Eva die op een platenhoes op een treinlocomotief staat vanwege het nummer 'LLLLLoco­motion'. De keurige meisjes van het groepje The Chantels, allemaal in een kuise abrikoos­kleurige jurk en met witte handschoenen aan. Het houdt niet op. Voor de liefhebber is het boek een overvolle grabbelton aan mooie plaatjes.

Heart & Soul, A celebration of black music style in America 1930­1975, door Bob Merlis en Davin Seay. Uitgeverij Stewart, Tabori & Chang, New York. Importeur: Nilsson & Lamm. ISBN 1­55670­538­7.