Boek: The Way You Wear Your Hat
Slechts zelden heeft Frank Sinatra journalisten te woord gestaan de laatste decennia. Misschien is dat terug te voeren tot 1947 toen Sinatra Lee Mortimer van de New York Daily Mirror een afranseling gaf. Wat hem een uiteraard met veel publiciteit overgoten rechtszaak opleverde. Maar de verre van smetteloze levenswandel van
Ol' Blue Eyes
, een gevreesd feestnummer en rokkenjager, zal er ook aan bijgedragen hebben dat hij zo ver mogelijk van de pers vandaan bleef.
Dik twee jaar geleden kreeg journalist en schrijver Bill Zehme de gelegenheid om de hoogbejaarde Sinatra (hij is van jaargang 1915) te interviewen voor het Amerikaanse tijdschrift Esquire. Nou ja, interviewen. Via een assistent van Sinatra kon hij de zanger schriftelijke vragen toespelen, die dan op papier beantwoord weer terug kwamen. Zehme gebruikte die antwoorden voor een groot artikel in Esquire. Maar daarmee had hij zijn kruit nog niet verschoten: hij maakte er een boek van dat onlangs uitkwam onder de titel
The way you wear your hat.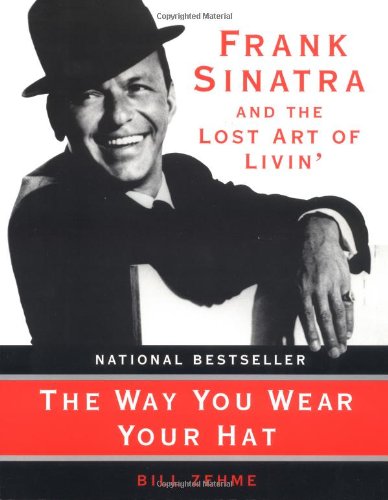 De ondertitel van het boek verraadt veel over de inhoud: Frank Sinatra and the lost art of livin'. Want het gaat vooral over Sinatra's levensstijl.

Bill Zehme is al lang een fan van Sinatra. Al tijdens zijn studententijd zat hij samen met vrienden te dagdromen over de stijl van Frank Sinatra. Toen hij eindelijk de gelegenheid kreeg om The Voice te interviewen, buitte hij die dankbaar uit om hem 'enkele essentiële vragen' te stellen, aldus Zehme zelf. 'Van het soort dat een mans leven kan redden.'
Wel, die vragen zijn van dit kaliber: Hoe kunnen een man en een vrouw een scheiding overleven? Hoe draag je het best je hoed? Wat is het belangrijkste dat een vader zijn kinderen kan leren? Hoe overleef je een gebroken hart? Sinatra levert antwoorden af die een alinea tekst zelden overtreffen. Wat moet een man nooit doen in bijzijn van een vrouwen? Sinatra's antwoord: Gapen. Dus kost het Zehme nog heel wat kruim om vervolgens het hoofdstukje over het aangesneden onderwerp te vullen. Dat gebeurt vooral met anecdotes. En dan meestal met voorvallen uit dezelfde hoek: die waarin Frank Sinatra is geportretteerd als onverwoestbaar feestnummer, als de ster die kreukvrij gekleed zijn vriendenclub The Rat Pack ­ met Dean Martin en Sammy Davis als enkele andere prominente leden ­ op de pijnbank legde als het ging om zuipen, feesten en hele nachten doorhalen.

Mokkels
Zijn muzikale carrière en betekenis ­ - Sinatra is de belangrijkste Amerikaanse entertainer van deze eeuw ­- blijft schromelijk onderbelicht in dit boek, dat dan ook geenszins een biografie is. Een verzameling vrolijke anecdotes, leuk opgeschreven, hoewel Zehme wel erg ver gaat in zijn adoratie, maar al die verhaaltjes zijn niet eens uit de eerste hand opgetekend, want zover ging de coöperatie van Sinatra niet. Zehme haalde de voorvallen uit andere boeken en bij vrienden, familie en kennissen van de oude zanger.
De invalshoek van het boek ­ - Het Leven volgens Frank Sinatra -­ en zeker diens antwoorden zijn volkomen gedateerd. Ze stammen uit een tijd dat vrouwen nog mokkels waren, alleen mooi hoefden te zijn, een man 's avonds bij het uitgaan alleen donkere kostuums mocht dragen en zijn mannelijkheid moest bewijzen door sloten Jack Daniels te drinken en op zijn tijd een robbertje te vechten. Uit de tijd, maar dat is Sinatra zelf ook bijna, als we de berichten in de media mogen geloven, is hij op sterven na dood.
Het boek staat ook nog vol foto's, voornamelijk van fotograaf Phil Stern. Aardige foto's, geen gelikte publiciteitsfoto's, maar gemaakt tijdens plaatopnamen, achter de schermen, in de privésfeer. Jammer genoeg is het merendeel van die foto's niet gedateerd en zijn ze karig voorzien van duidende bijschriften. En ook dat is een gemis.

Bill Zehme: The way you wear your hat. HarperCollins. In Nederland gedistribueerd door Nillson & Lamm. ISBN 0­06­018289­X.