Paul Carrack: At The London Palladium
15/03/15 18:19 Staat in:
Soul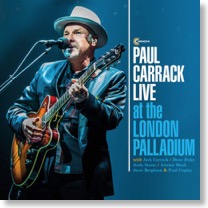 Geen enkele verrassing biedt het nieuwe album van de Britse zanger en muzikant Paul Carrack. Het is dan ook een live-album (opgenomen in het legendarische London Palladium) dat een dwarsdoorsnede van zijn repertoire laat zien. Gewoon lekker zacht-swingende muziek. De productie van het album is smetteloos, het geluid kraakhelder.
De jonge Carrack is bekend van bandjes als Ace, Squeeze en Mike & The Mechanics waarna hij bouwde aan een achtenswaardige sololoopbaan in vooral het lichte soulgenre.
Blue-eyed soul
, heet het dan, gewoon omdat een witte man het vertolkt. Inmiddels is Carrack 63, maar sleet is amper hoorbaar.